HLTAID009 Provide Cardiopulmonary Resuscitation CPR Course:
Cost: $60
Where: Fyshwick Fresh Food Markets, Suite S4 Level 1. Above Mikes Meats (2021 New Venue), LFG Kambah (Please check the booking calendar below for each sessions location) or contact us for your own private group booking at your venue.
When: At the moment due to Covid-19 our online training has been developed so most of the training is done online in your own time, then you attend a short 20 min face to face practical assessment. 
Upcoming Provide Cardiopulmonary Resuscitation Courses:
1. Book in to the CPR Course. This is easily done through the book a CPR course page. Or in the calendar above.
2. Completed online workbook (prior to course date).  When completing the online workbook it is important that you complete this before the course date. Evidence of completed workbooks is a pre-requiste in receiving accreditation. *Online CPR course takes around 45 mins to complete*
3. Sign up for FREE USI. Effective from January 1st 2015 all students enrolled in nationally recognised training, will be required to provide their registered training organisation (RTO) with their USI. Registering for a USI is simple and the registration process is available online and at no cost to the student. This USI will stay with the student for life and be recorded with any nationally recognised VET course that is undertaken.
Create your USI now at http://portal.usi.gov.au/student
4. Learners rights, responsibility and support, including complaints and
refunds. All students attending Canberra First Aid courses should read the Student Written Agreement before attending a course. This document is found here.
5. Show up to your chosen CPR course date and complete the 20 min classroom face to face session. This includes attendance at all sessions, observation and practical assessment and participating in problem solving scenarios. The HLTAID009 Provide Cardiopulmonary Resuscitation (CPR) course course describes the skills and knowledge required to provide CPR, until the arrival of medical or other assistance. This course is suitable for those students requiring workplace first aid skills. NOTE: This is a component of the HLTAID011 Provide First Aid course, whilst a  HLTAID011 Provide First Aid certificate lasts for 3 years this component only lasts for 1 year. Meaning while your first aid certificate may be valid, your HLTAID009 Provide Cardiopulmonary Resuscitation (CPR) component will have expired a year after the course completion date and may need to be refreshed yearly in some workplaces.
Entry Requirements
Participants must have the physical capacity to perform 2 minutes of uninterrupted CPR on the floor.
HLTAID009 Provide cardiopulmonary resuscitation
In day to day life, in the workplace, in the community or at home, you may be confronted by a life-threatening emergency such as someone experiencing Cardiac Arrest. Quick decision making and knowledge on what to do could save someone's life.
This course provides you with the skills and knowledge to recognise when someone is unconscious and not breathing normally (Cardiac Arrest) and increase their chance of survival by calling an ambulance and performing potentially lifesaving cardiopulmonary resuscitation (CPR), including using a defibrillator, until emergency services arrive to take over.
The course is delivered in line with the Australian Resuscitation Council guidelines and applies to all workers or members of the community who may be required to provide CPR in the event of an emergency.
Important information prior to enrolment
Unit Being Delivered
The following unit(s) will be awarded to successful participants in this course. The certificate will be issued by Allens Training Pty Ltd RTO 90909.
HLTAID009 Provide Cardiopulmonary Resuscitation
To view full unit details please visit training.gov.au
Course Delivery
This course will be delivered in the workplace or at a Canberra First Aid PTY LTD training facility.
Course Duration (face to face)
Enhanced Online Covid-19 safe delivery – 20 minutes (minimum) – with the addition of 1 hour self-paced online learning
Blended delivery – 2 hours (minimum) – with the addition of 1 hour self-paced learning
Refresher training – 2 hours (minimum) – conditions apply for this option, for example, you will need to provide previous current certificates.
Performance tasks and practical scenarios:
Perform CPR on an adult (incl. the use of an AED and placing a casualty into the recovery position)
Perform CPR on an infant
Theory assessment: A written assessment consisting of multiple-choice questions.
Provider of Training and Assessment
This course is delivered and assessed by Canberra First Aid in partnership and under the auspice of Allens Training Pty Ltd RTO 90909.
What you need to bring:
Wear comfortable clothing
USI
Pen
Form of identification (Drivers License, Passport, Photo I.D. Card, Student card).
What you will receive on successful completion of the CPR course:
On successful completion of the HLTAID009 Provide Cardiopulmonary Resuscitation (CPR) course, students will receive an emailed soft copy certificate that is valid for 1 year from the course completion date.
Certificates will require renewal after 12 months
Cancellations or Re-scheduling
Please see our Terms and Conditions Page. All booking cancellations or re-scheduling will incur a $40.00 fee. In cases where less than 48 hours notice of cancellation or re-schedule is provided, the full course fee may be charged (this also includes no shows). For instant mistake booking we will re-schedule for free.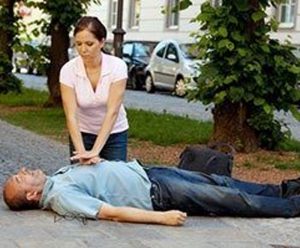 Very happy with the training. We book for 10-12 people at a time, with a mix of full first aid and CPR refresher. The team are always very helpful with coordination, and have great communication. This year we had Ben as our trainer; he was excellent - keeping it interesting, relevant, and informative.
chapman canteentreasurer
2023-05-28
Fantastic service, easy to understand instructors, great online content.
The venue and instructor were excellent - as was the equipment available for participants to practice on. Access and parking at the Fyshwick markets was very good also.
Vincendt Jacobs
2023-05-14
Would highly recommend Canberra first aid and training center. 10/10
Deborah Gentile
2023-05-14
Professional staff members, great costumer service, very good at what they do.
Great course, highly recommend
Definitely I recommend and Emma is a great trainer in my experience