First Aid Training in Canberra. Book Your Course Today. Excellent Trainers. HLTAID003 Provide First Aid Training. Free First Aid Manual.
Deliveroo is to train 1,500 of its UK riders in first aid so they can help in an emergency if needed.
In total, 3,000 of the food delivery app's riders worldwide will be trained as part of the new LifeCycle programme, which will see 10% of the firm's global network of riders across 10 countries take part.
The company said training sessions will be given by the British Red Cross and will take place in several cities across the UK, London, Glasgow, Cardiff, Belfast, Manchester, Brighton, Bristol and Nottingham.
Deliveroo UK and Ireland managing director Dan Warne said the company hoped the training would help make a difference in emergency situations as well as give riders confidence through developing new skills.
"I'm really proud of the fact that our riders consistently go above and beyond day in, day out when making deliveries.
"Our riders are a force for good, present in cities and neighbourhoods across the UK and we wanted to make sure they had the skills to match," he said.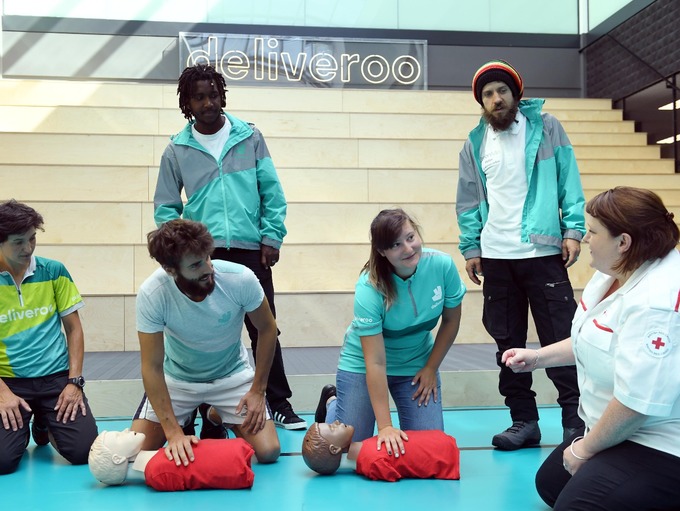 "We hope that by offering this training, riders will feel empowered to use these new skills if needed, which could make a real difference to people in the communities that we work in.
"With so few people feeling confident enough to help in a situation where someone is injured, we're delighted to be able to equip riders with the skills and knowledge that will serve them well in life and in their careers."
According to British Red Cross research from January, only 5% of adults say they have the skills and confidence to provide first aid in an emergency situation.
Joe Mulligan, the head of first aid education at British Red Cross said: "We all hope that someone would be able to help us in an emergency, but research from the British Red Cross shows that few people feel they have the skills and confidence to act in some of the most serious situations.
"In the same way that everybody knows to call 999 when someone is unresponsive and not breathing, we need to make sure that people know what to do until the ambulance arrives.
"We believe that everyone should know these simple yet vital skills. Working with Deliveroo to train some of its riders in first aid will not only raise further awareness but could potentially save lives."