First Aid Course Canberra. Book Now. Excellent Rate and Trainers. Nationally Recognised Training. Free First Aid Manual. Free CPR Mask.
Many thoughts and emotions run through you when you find out you're pregnant. From excitement to joy, happiness and in most cases the question, "how will I look after this bundle of joy to the best of my ability?"
When I was six months pregnant with Jessica, our now five-and-a-half year old daughter, my husband Heath and I thought it would be a good idea to get our First Aid certificate.
Things happen in life and being best equipped to handle any situation that may arise was definitely confidence building for me as a soon-to-be mum.
Being trained doesn't make you a helicopter mum (although that I am), I've just found that having First Aid knowledge means I can go about my everyday life with a little less stress.
Funnily enough, one of our best First Aid experiences was when Jess looked after ME! I'd cut my foot quite badly and knew I needed compression and elevation but I was unable to walk, so I asked Jess to go down the hall and grab some toilet paper.
She ran back as fast as she could, ready to help me stop the bleeding, toilet paper still attached at the other end and a perfect roll running down the length of the hall. It was so sweet I'd almost forgotten I'd probably need stitches.
I'd like to think my St John's First Aid training kept me level-headed that day, and as for Jess, she is now a superstar in the First Aid department!
Whether it's a graze, bite, sting or ankle sprain, being prepared for everyday events that require First Aid is definitely an awesome feeling and knowing that Jessica learns from her parents is a reassurance that cannot be understated.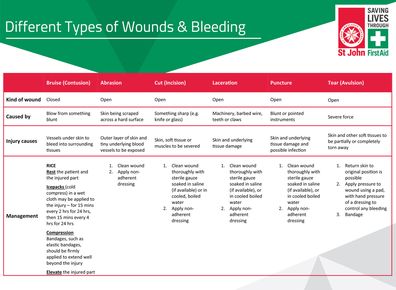 Brodie Harper is showing her support for the First Aid Champion Awards, organised by St John Ambulance Victoria to honour the unsung heroes amongst us for using their First Aid skills and have made a lasting impact to people's lives. Consisting of five categories, the First Aid Champion Awards recognise that First Aid is a vital skill to have, irrespective of age, gender, background or health status. The categories for nominations are Junior (under 12) First Aid Champion, Youth (under 18) First Aid Champion, School First Aid Champion, Community First Aid Champion and Workplace First Aid Champion, allowing for recognition across all aspects of society.
Nominate your First Aid Champion today through stjohnvic.com.au/champions
Make sure you book in to a first aid course in your local area. www.canberrafirstaid.com