Half of people surveyed said they would not attempt first aid if they stumbled across an accident or injured person.
Nearly six out of every 10 deaths from injury could be prevented if the British public knew even the most basic first aid, new research has revealed.
A study by the University of Manchester found that 93% of people would call 999 if they stumbled across an accident or an injured person.
But first aid intervention was more infrequent – with around half of people saying they would not attempt any while waiting for emergency services to arrive.
Joe Mulligan from the British Red Cross, which commissioned the research, said: "The good news is that most people are calling 999.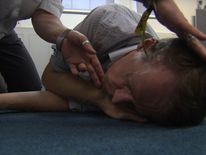 "But after calling 999 we want people to then do something in those crucial minutes before the ambulance arrives, every person needs to recognise that in an emergency, you are part of the 'chain of survival'.
"Sadly in the majority of deaths we looked at, the simplest intervention could have helped keep someone alive until they got to hospital.
"For example something as simple as turning someone on their side and tilting their head back to keep their airway open – could be all it takes to make that difference between life and death in certain situations."
The Royal College of Emergency Medicine has called for more opportunities for people to learn first aid, starting in school, but also through the driving test and public health initiatives.
It said: "Opening the airway by turning the unconscious person on their side and reducing blood loss by pushing hard on the site of the bleeding can buy precious minutes until help arrives.
"These two simple actions are the very same that a trained doctor or paramedic would perform. Minutes really count – so these actions save lives."
Please note this article was taken from the UK where the emergency services number is 999. Here in Australia please call 000 for emergency services.
Its scary to think that this many people would not attempt first aid in a country with so many people. Here in Australia we haven't seen the statistics but I would hope that more people would help in a first aid situation. Make sure you are prepared for the worst by completing a first aid course in Canberra with Canberra First Aid. Our first aid courses are fun, fast and effective teaching you all the skills that will help save a life. So book in today for a first aid course in Canberra.