First Aid Course in Canberra. Nationally Recognised First Aid Training. Excellent Trainers. Great Location Free Parking.
Mental health is just as important as physical health – so one organisation is educating society on how to recognise the symptoms and signs of common mental health issues and help in a moment of need.
Based on the first aid model – the first responders to physical injury – Mental Health First Aid England (MHFA) is the mental health equivalent.
Through Mental Health First Aid training classes, a MHFA certification teaches people how to "effectively guide a person towards the right support, be that self-help or professional services."
Poppy Jaman, CEO and co-founder of MHFA, told The Independent: "We teach people how to talk about mental health issues. What we call mental health literacy."
The organisation, founded in 2000 in Australia, has grown exponentially since it first reached England in 2007.
To date, MHFA has trained just under 300,000 people in mental health first aid and three million globally. But they have a long way to go before they reach their goal of one in 10 people of the English population or five million people.
According to Jaman, the goal number is based on the tipping point theory – when you educate enough people on a subject to the point that it tips society over to normalising whatever the issue is.
In this case, Jaman wants "society to be, when I say 'health,' everyone understands mental and physical and not just physical.
"Mental health being a normal part of every day, every family, every community."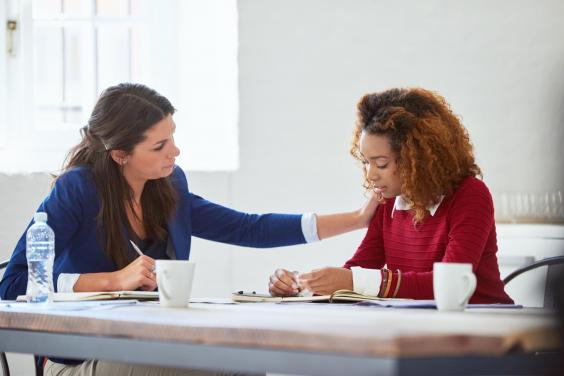 To normalise and educate people about how to deal with their own stress and mental health, and how to have a conversation about the topic with others, MHFA offers two-day, one-day, or half-day courses.
In these courses, participants learn five main components that can then help them change and influence the conversation about mental health, and ultimately change the world.
First, Jaman told us: "The number one thing you learn is that a mental health first aid course will not teach you to be a therapist."
Second: "Anybody is capable of having a compassionate positive conversation about mental health."
Third, and importantly, the courses teach participants "how to have the conversation." This includes the structure of an open conversation about mental health.
Participants then learn "how to take that conversation and explore whether somebody is having thoughts of suicide."
"We teach people how to have a confident conversation about suicide," Jaman told us. "How to have a really empathetic conversation when people are experiencing great distress."
And finally: "Self-care and all we can do to prevent ourselves getting unwell in the first place," which can include the same things we do for physical health – "eating healthy, exercising regularly, but also giving time to things that are meaningful in our life, volunteering, spending time with friends and projects that are close to our heart, medication, walking, sitting and reading.
"It is recognising that all of those things are important parts of a balanced life," Jaman said.
Mental Health Awareness: Facts and figures
This dedication to education around mental health, as well as a changing conversation about mental health issues, has made a big impact on the prevalence of the topic in society and everyday life.
The changing conversation is partly due to the fact that "high profile people, celebrities, and average people are all coming out and talking about their stories."
This means people are seeing others openly discuss mental health, which opens the conversation up for a more accepting discourse.
Of this shift in society, Jaman said: "Society has woken up to the fact that discrimination can no longer be."
For Mental Health Awareness Week, May 14 to 20, MHFA has launched a campaign, #addressyourstress," which teaches people about stress and the most common sources, as well as self-care techniques they can use to deal with stress.
Because "one in six adults in Britain will experience depression, anxiety or problems related to stress at any one time," MHFA is taking action to help people manage their stress levels.
As for the ultimate goal, Jaman told us: "We want to not have to hide any health-related issues we might be having.
"We are looking to create a more compassionate world and a more compassionate society."