Meagan Hurley | Opelika-Auburn News | Twitter | Posted: Sunday, October 25, 2015 5:30 am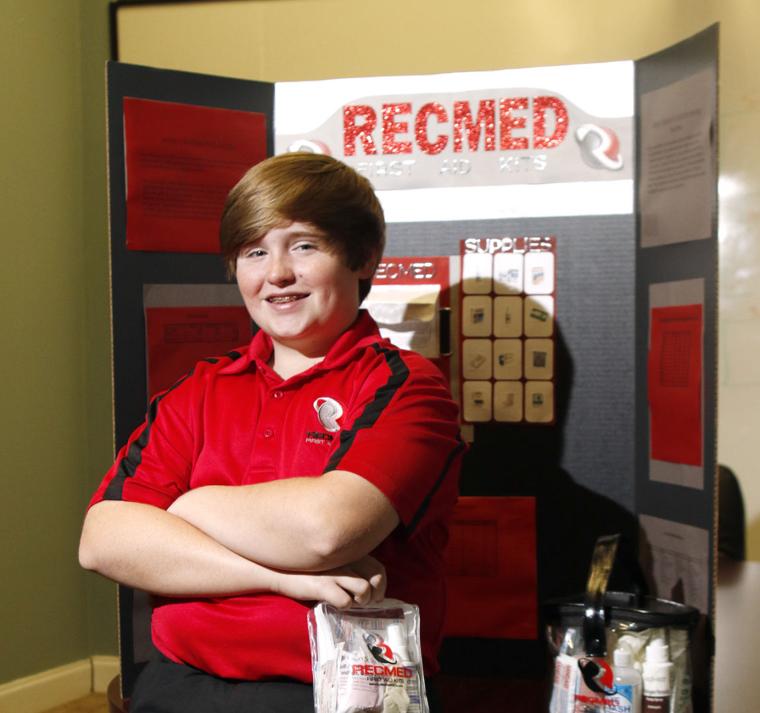 OHS entrepreneur Taylor Rosenthal
Opelika High School freshman Taylor Rosenthal has been invited to be on Late Night with Jimmy Fallon.
The average high school freshman probably has many things on his mind, from games to grades, girls and so on, but not many 14-year-olds can claim to run a potential multimillion-dollar company. That's not the case for Opelika's Taylor Rosenthal.
As an eighth-grader at Opelika Middle School, Rosenthal coined the idea for first aid vending machines in his Young Entrepreneurs Academy class sponsored by the Opelika Chamber of Commerce. Fast-forward a few months and Rosenthal, now a freshman at Opelika High School, serves as founder and C.E.O. of RecMed, a first-aid vending machine company that was officially granted its patent Tuesday.
"I make something called the RecMed vending machine. It's a computerized vending machine that functions similarly to a Redbox machine but instead of it dispensing DVDs, it dispenses first aid supplies. So we put these at any high traffic places that kids could get hurt, so like amusement parks, all kinds of parks, recreational centers, conventions, football stadiums, baseball fields, everywhere," he said.
An athlete himself, Rosenthal said his business was inspired by his parents, who both work in the medical field. But the idea of employing a vending machine to dispense the first-aid supplies didn't arrive until later.
"It originally started out as a pop up shop for first-aid kits, where we would go and sit out at sporting events to sell first-aid kits. So instead of a mom having to go to a Wal-Mart or a CVS to get first aid supplies when their kid gets hurt at a sporting event, we'd be sitting out there and it would be fast, easy access," he said. "We noticed how much it would cost to pay somebody minimum wage to sit out at a sporting event for six hours, and we were trying to find a way that we could get the first aid supplies out there but not really have to pay somebody, so we kind of thought vending machines."
For the past several months, Rosenthal has spent his free time building the foundation for RecMed at Opelika's Round House, an incubator for start-up businesses. Now that RecMed has received its patent, Rosenthal said investors are ready to close, paving the way for prototype construction.
"We're talking about closing in on investors in the next week or two, which we would then give some of that money to our team from Auburn University to actually produce the prototype," he said.
A pending order has already been placed. RecMed is working on a schedule for March 1, which is when Six Flags would like to explore the contraption by. If everything goes as planned, Rosenthal said they'll be purchasing the first 100 units. For how much, Rosenthal said he doesn't yet know, but he expects the machine — and the overall business – to garner a high value.
Recently, Rosenthal turned down one major corporation's $30 million offer to buy his idea. Why? He said he feels it could be worth more in the future.
"A large national healthcare company contacted us and said we feel the idea is worth this, would you like to sit down and talk? It's his company. He declined because he wants to at least get it started and see how it goes," said Rosenthal's father, Terry.
What would a 14-year-old do with that kind of money? Rosenthal said he'd spend it on college tuition at Notre Dame, where he'd hopes to one day study business or medicine.
Those who know him don't doubt his ability to do whatever he sets his mind to.
"Taylor was an awesome student. He was one of those students who will ask you any and every question that needs to be asked. He doesn't care how many times he asks you, as long as he gets the answer. He will use that information to do what he needs to do. He is extremely focused," said former teacher Carinda Jones. "For him to ask to be in the class, to go from just a year ago, sitting at that computer over there to what he is doing now is just absolutely amazing. He's my poster child."
Round House founder and Rosenthal's business mentor Kyle Sandler said Rosenthal's drive is exceptional.
"We had to kick him out of here on Christmas Eve to spend time with his family, and you best believe that every minute of fall break he was here at the Round House. When he's not in school or playing baseball, he's here working on anything from customer discovery to lead generation to where he can put his product."
Rosenthal was also recently recognized by Inc., a national business magazine, as one of "20 Teenage Entrepreneurs Set for Success."
Rosenthal said all the attention and recognition he's received "feels awesome," but for now the young entrepreneur plans to keep focused on growing his business, excelling in school and playing baseball.
30 million!!! wow. Pretty amazing stuff in the first aid world. Hopefully first aid course in Canberra will be able to see the introduction of these to Australia in the coming years. In the mean time what a great reminder that taking part in a first aid course in Canberra is a wonderful idea.