Mar 23rd, 2017
The NRL will review a concussion suffered by Sam Burgess against the Sydney Roosters on Thursday night after the South Sydney lock remained on the field for four minutes before finally leaving for a Head Injury Assessment (HIA).
The concussion issue has bubbled along this week after the NRL handed down a record $350,000 in combined fines to the Gold Coast, Newcastle and St George Illawarra for failing in their duty of care to players who had suffered head knocks.
Burgess came off second best after rushing out of the line late in the first half to put a hit on Sydney Roosters hard man Isaac Liu. The Souths captain remained on his haunches before slowly rising to his feet and re-joining the play.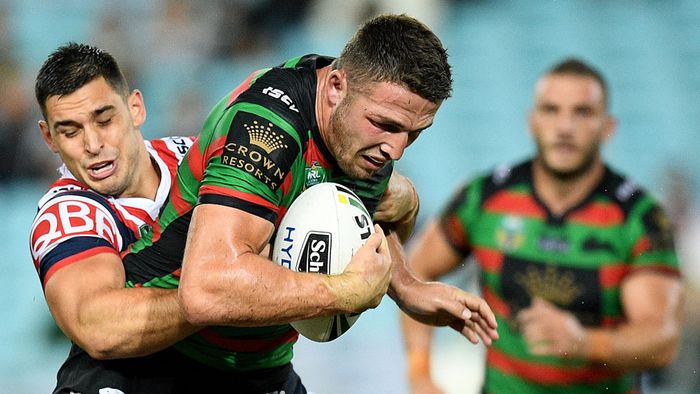 South Sydney lock Sam Burgess on the charge against the Sydney Roosters on Thursday night. (AAP)
The NRL review all HIA's at the completion of the round to determine if the strict rules have been breached and they have already signalled their intentions to clubs over concussions this week after issuing heavy fines.
Channel Nine commentator Phil Gould said on his "Six Tackles with Gus" podcast for 9Podcasts that his greatest concern over the NRL's tough stance was there would be a knee-jerk reaction from clubs now over concussion.
"It's a difficult issue and if you're going to throw $50,$100, $150,000 on top of that well now we're going to be jumping at shadows," Gould said
"As soon as a bloke rubs his head because he's got a knock they're going to be saying you've got to come off and have a HIA.
"We're more and more and more sanitising the game of rugby league and now that we've actually got litigation around this concussion issue it's a real problem. I don't know how we play the game and avoid head knocks and avoid people getting hurt.
"It doesn't mean that they've always got concussion and that's the thing. We're going to keep running players on and off to the HIA and I don't know where it's going to end."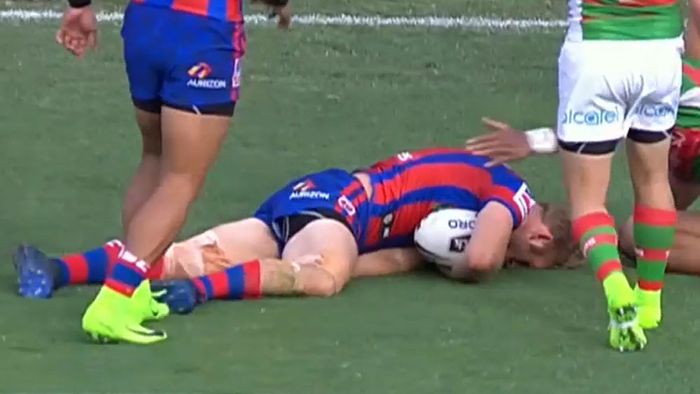 Newcastle is one of three NRL clubs who were heavily fined over their handling of fullback Brendan Elliott's concussion in round three.

Gould said clubs placed their faith in their medical staff and it was sometimes difficult to diagnose concussion.
The Titans have already indicated they will challenge their fine, claiming one of the players the NRL had identified Joe Greenwood as suffering a concussion had actually copped a poke in the eye, while the Dragons and Knights are reviewing their options.
"People think it's easy to determine if a player is concussed or not," Gould said.
"It's not.
"A player may be stunned, a player may be hurt, that doesn't necessarily mean he's concussed and you trust your medical staff out there who have had the experience at this as to whether or not the player (is concussed).
"Just because a player goes down injured we shouldn't have to get him off to test him for concussion all the time."
Read more at http://wwos.nine.com.au/2017/03/23/21/52/nrl-expected-to-investigate-concussion-suffered-by-south-sydneys-sam-burgess#mVy5jb0MqDeMIWBW.99